October 17
@
9:00 am
–
2:30 pm
Location: Ohio Union, Great Hall 1-3
Cost: $40
Keynote Address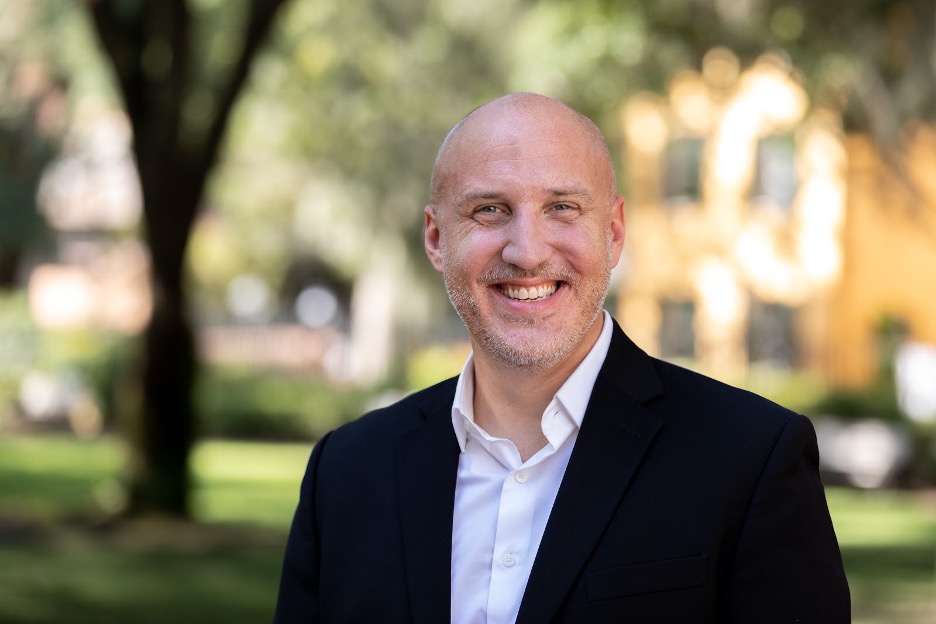 Dr. Ian O'Byrne, Associate Professor of Education at the College of Charleston will share his insights and vision for leveraging technology to promote innovation and creativity in K-12 classrooms
---
Interactive Workshops
Engage in hands-on workshops led by experienced educators and technology specialists.
Panel Discussions
Join renowned experts in education and technology as they discuss a range of important topics such as coding, data analytics, virtual reality, and other innovative technologies that have the potential to impact teaching and learning.
Agenda
8:30am – 9:00am
Registration
Continental Breakfast
9:00am
Welcome and Overview
9:10am
Keynote Address: Ian O'Byrne
10:10am
Panel Discussions
Moderator:
Casey Rinehart
Panelists:
Rick Voithofer
Catherine Duplesia
Sherri Ann Butterfield
11:10am
Breakout Sessions (select one to attend)

Early Childhood – Hayes Cape, 3rd Floor
Presenter: Franki Sibberson (SproutFive)

Elementary – Great Hall 1, 1st Floor
Presenter: Joesph Hernan and Randy Nielsen (Columbus City Schools)

Secondary – Barbie Toodle, 3rd Floor
Presenter: Emily Bricker, Josh Doran, Phil Freeman, Travis Wood (Southwestern City Schools)

K-12 Administrators – Suzanne Scharer, 3rd Floor
Presenter: Rich Boettner and Mark Pohlman (Hilliard City Schools)

Teacher Educators – Great Hall 2, 1st Floor
Presenter: Casey Rinehart (The Ohio State University)
12:45pm
Keynote Panel
Moderator:
Detra Price-Dennis
Panelists:
Anna Paula Correia
Charles Lang
Aman Yadav
1:45pm
CDLI Resources
2:00pm – 4:00pm
4H Mobile Design Lab
2:20pm
Adjourn
Speakers
William Ian O'Byrne, Ph.D.
W. Ian O'Byrne, PhD is an associate professor of literacy education at the College of Charleston in South Carolina. His research focuses on the dispositions and literacy practices of individuals as they read, write, and communicate in online and/or hybrid spaces. O'Byrne is the author of many journal articles and book chapters focusing on initiatives ranging from online and hybrid coursework, integrating technology in the classroom, ePortfolio systems, and supporting marginalized students in literacy practices. Ian is a former middle school and high school English Language Arts teacher. He can be found on Twitter (@wiobyrne) and his work can be found on his website. His weekly newsletter focuses on the intersections between technology, education, and literacy.
Charles Lang
Charles Lang is the Executive Director of the Digital Futures Institute at Teachers College Columbia University. Charles is a scholar and researcher in the field of learning analytics and adaptive technologies and the editor of the Handbook of Learning Analytics. His research focuses on adaptive educational systems and learning analytics and the implementation of data-informed systems into educational contexts.
Casey Rinehart
Casey Rinehart is the Director of Distance Education and Learning Design and a Lecturer for the College of Education and Human Ecology at The Ohio State University. Prior to her current role, Casey served in other roles related to instruction, technology-enhanced learning, and employee learning and development at three previous institutions. She is passionate about elevating the student experience and helping educators create transformative learning experiences.
Dr. Rick Voithofer
Rick is an associate professor in the Learning Technologies program in the department of Educational Studies. He is program coordinator for the program where he directs the online Master of Learning Technologies degree. His research focuses on the intersections of technology, equity, and learning, along with examining questions around preparing and supporting educators to engage with innovative pedagogies using technology.
Dr. Detra Price-Dennis
Dr. Detra Price-Dennis is the Executive Director of the Center for Digital Learning and Innovation and a Professor of Teaching and Learning at The Ohio State University's College of Education and Human Ecology. Her award-winning scholarship examines the intersection of critical literacy, learning technologies, curriculum development, and equity-oriented pedagogies. She develops collaborative initiatives with professional organizations, institutions of higher education, and K-12 school districts to foster impactful teaching practices for digital learning.

Detra supervises the center's operations, leads strategic initiatives, and fosters innovation in the development and implementation of digital learning programs and technologies. Director of the Creativity and Innovation Network Detra leads a cutting-edge learning network for undergraduate students to engage in media production for social change in education through design thinking and collaborative problem solving funded through a partnership with Apple.
Dr. Sherri-Ann Butterfield
Sherri-Ann P. Butterfield is Executive Vice Chancellor and Associate Professor of Sociology at Rutgers University–Newark. She is a nationally recognized scholar, teacher, and thought leader in race and ethnicity, immigration, and diversity in higher education. Sherri-Ann is also a sought-after facilitator on managing diversity within complex institutions. As an advocate for leveraging diversity in all its dimensions, she works with her RU-N colleagues to actualize the public mission of colleges and universities as engines of social mobility, and as anchor institutions that collaborate with partners from multiple sectors in order to help communities succeed.

Her work has appeared in numerous journals and edited volumes that include the International Journal of Sociology and Social Policy and the Research in Urban Sociology Series. While at Rutgers-Newark Sherri-Ann has served in numerous academic and administrative capacities, including: Visiting Academic Fellow in Nuffield College at Oxford University, American Council on Education Fellow at New York University, Faculty Fellow in the Office of the Chancellor, Acting Director of the Women's and Gender Studies Program, Associate Director of the Clement A. Price Institute on Ethnicity, Culture, and the Modern Experience, and former Chair of the Sociology and Anthropology Department. She received her B.A. in Sociology from Yale University and M.A. and Ph.D. in Sociology from the University of Michigan.
Catherine Duplisea
Catherine Duplisea, a Cleveland native, wife, mother of three, and educator of 17years, began her career teaching on the tiny island of St. John in the United States Virgin Islands. She continued her career in the city of Cleveland, Ohio as a founding teacher at a blended learning charter school, and then pursued a career with the Cleveland Metropolitan School District. With twelve years of early childhood classroom teaching, five years as a curriculum and technology coach in a school, and now working in administration as an Action Team Coach (principal coach), Catherine has gained knowledge, experience, thought partners, and perspective throughout her journey and has developed a strong passion for meaningful learning with technology and a burning desire to bring joyful quality learning opportunities to children in urban schools. Catherine earned her bachelors degree in early childhood education from John Carroll University, Ohio and her M.Ed. In Applied Digital Learning from Lamar University, Texas.

In 2017, she received the Excellence in Teaching Award from her school district, followed by recognition as the state board district 11 Ohio Teacher of the Year in 2019 and finalist for 2019 Ohio Teacher of the Year. That samey ear Catherine joined the 2019 class of Apple Distinguished Educators, and co-led her school to Apple Distinguished School recognitions as well as STEM designation from the state of Ohio. She is now working at the district level with one of the area academic superintends to support principals in the pursuit of fluffing the districts vision for learning and teaching, encouraging a more fair, just, and good system of education that embraces joy, adventure, productive struggle, and creativity.
Dr. Ana-Paula Correia
Ana-Paula Correia, Ph.D., is the director of the Center on Education and Training for Employment. She has more than 25 years of experience in learning design and instructional systems technology. Specifically, Dr. Correia's expertise lies in learning design, online and mobile learning, collaborative learning, and entrepreneurial education. Her work has been published in top-tier academic journals, such as Educational Technology Research & Development, Teachers College Record, British Journal of Educational Technology, Journal of Computer Assisted Learning, Computers in Human Behavior, and Distance Education. She has published over 100 journal articles and book chapters in three different languages: English, Portuguese, and Spanish. In 2018 she published the book, Teaching Online Simplified: A Quick Guide for Instructors, intended to serve as a practical guide or "handbook" for those with limited or no prior knowledge of teaching and education but are interested in online teaching.

Dr. Correia is also a Professor of Learning Technologies in the Department of Educational Studies at The Ohio State University. She leads the Learning and Experience Design Research Group, a group dedicated to investigating learning design processes and pedagogies to create deep learning. She was the Faculty Co-Coordinator of the Masters of Learning Technologies until September 2021. Launched in August 2016, this program is ranked 10th in the U.S. News and World Report rankings.

Dr. Correia has been involved with research projects funded by the Bill and Melinda Gates Foundation, the National Institutes of Health, the National Science Foundation, the U.S. Department of Agriculture, the Pappa John Center/Kauffman Foundation, and the U.S. Department of Education. Her research was awarded for excellence several times by the Association for Educational Communication and Technology as well as the Association for the Advancement of Computing in Education. She has delivered innumerable presentations at local, national, and international conferences.
Dr. Aman Yadav
Dr. Aman Yadav is the Lappan-Phillips Professor of Computing Education in the College of Education and College of Natural Science at Michigan State University with extensive experience in research, evaluation, and teacher professional development. His research and teaching focus on improving student experiences and outcomes in computer science and engineering at the K-16 level. He leads several projects that design, implement, and assess how professional learning experiences can support teachers to bring computational tools and practices to support their disciplinary teaching. His co-edited book, Computational Thinking in Education: A Pedagogical Perspective tackles how to integrate computational thinking, coding, and subject matter in relevant and meaningful ways. His work has been published in several leading journals, including Communications of the ACM, ACM Transactions on Computing Education, Journal of Research in Science Teaching, and Journal of Engineering Education

Networking Opportunities
Expand your professional network, exchange ideas, collaborate on future projects, and engage in meaningful conversations about innovation and creativity in K-12 education.
4H Mobile Design Lab will be on site from 2pm-4pm